Nothing sounds more Southern than a fresh baked, warm, flakey biscuit. I (Laura) was on the hunt for the perfect one and Grace was here visiting me and she said, "Our dear friend Marty has a good one." We made them and I haven't made another recipe since then. Serve them warm slathered in butter, drizzled with honey, or my favorite with a sausage patty and an iced maple breve! Best breakfast ever!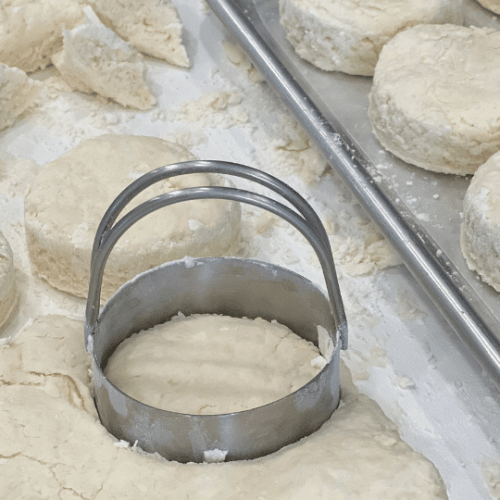 Buttermilk Biscuits
Ingredients
6

cups

flour (1/2 cake, 1/2 all purpose)

3

tbsp

baking powder

3

tbsp

sugar

1/4-1/2

tsp

baking soda

1

tbsp

salt

1/2

cup

shortening

1/2

cup

butter (use 1/4 cup frozen), cubed

1 1/2

cups

heavy cream

2

cups

buttermilk
Instructions
Mix all the dry ingredients together in a large bowl.

Toss in the cubed butter, remember to use 1/4 cup frozen butter and 1/4 cup cold butter. Using a pastry blender or by rubbing the butter pieces between your fingers, work the butter into the flour until the butter pieces range in size from peas to almonds.

Using a silicone spatula, fold the milk into the flour mixture until most of the flour is moistened, but the dough is still crumbly. (Don't over mix it. It will come together in the next step).

Put the dough onto a floured counter and press out. Then fold it over, fold again, and again until a nice dough is formed. Pat it out into a 1 inch thick piece. Dip biscuit cutter into flour and cut the biscuits out.

This recipe makes a lot of biscuits, so I normally line a sheet pan with parchment and place the cut biscuits on. Freeze then place in a large ziplock bag.

Coat the pan with plenty of butter. Bake the frozen biscuits at 400 for 18-22 minutes. If you don't freeze them, bake for less time, until they are golden on top.