Get that fried chicken crunch without the guilt! This cracklin' chicken has that crunch you're looking for and tons of flavor thanks to that cajun seasoning. Great for those that are watching their carb intake or just love some good, crispy chicken! Serve with roasted veggies for a quick and easy meal.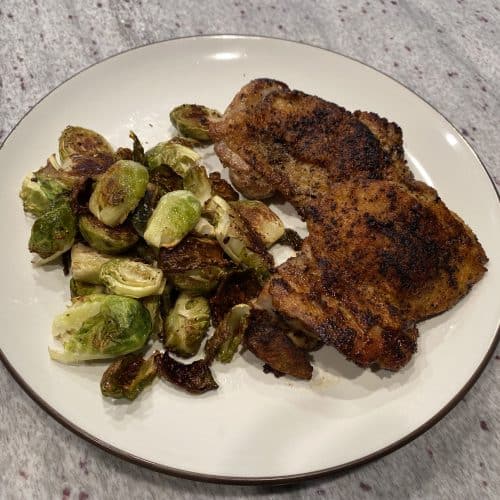 Cajun Cracklin' Chicken
Ingredients
3

bone-in, skin-on chicken thighs

cajun seasoning

salt and pepper to taste

1

tbsp

avocado oil

1

tbsp

butter or ghee
Instructions
Remove the bone from the chicken thighs. While this isn't completely necessary, it makes the cooking process much easier. Make sure to keep the skin on. Kitchen shears work really well for removing the bone.

Season the chicken with salt, pepper, and cajun seasoning.

In a cast iron skillet, over medium high heat, heat avocado oil until light smoke appears. Place chicken skin side down.

Cook chicken until skin is nice and golden brown, around 3-4 minutes, and flip. Reduce heat to medium. You will want to keep flipping chicken back and forth to make sure it doesn't burn.

Once chicken is almost completely cooked through, add butter and baste over the skin to make it extra crispy. Once chicken has reached an internal temperature of 165, set aside and rest for 5 minutes.
Notes
This chicken can really splatter in the pan, so you may want to use a splash guard if you have one!